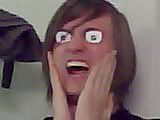 When your tummy growls
and you're on the prowl,
put down the other guy's
and reach for some Hunterpies!
I've been meaning to put this picture up for a while now. But I just couldn't justify a weekly post with this one
fantastic
picture. See, we were cutting something on our snazzy new flatbed automated cutting table and it was leaving some awesome circles. Just the right size to fit over your eyeballs! So we doodled some chucklesome pupils on them and tried them out. If only we'd had a meeting and we all could have pretended to pay attention...