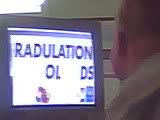 That's right Shrek.
"CongraDulations."
Good work.
Yes, I'm back! Blog updates fell to the wayside over the last couple of weeks. We've got a recent graduate in the house now. Very proud of Mike!
Took a week off of work since my Mom was coming in from California and my Dad from Idaho. So my nice relaxing vacation was spent landscaping and barbecuing. Which, despite how it sounds, wasn't so bad.
So enjoy Saturday's revelry and marvel at Shrek's spelling prowess and look for something new tomorrow.